IHF WORLD TRACKING DOG CHAMPIONSHIP 2023

Competition of the best trackers
This year's IHF World Championship for Tracking Dogs (IGP-FH) will take place in Saxony-Anhalt from 22 to 24 September 2023. We are guests of HSV Magdeburg North, Großer Kannenstieg 5, 39128 Magdeburg. In the extensive grounds in the immediate vicinity of Magdeburg, the best teams from the member countries of the International Hovawart Federation will compete for the title.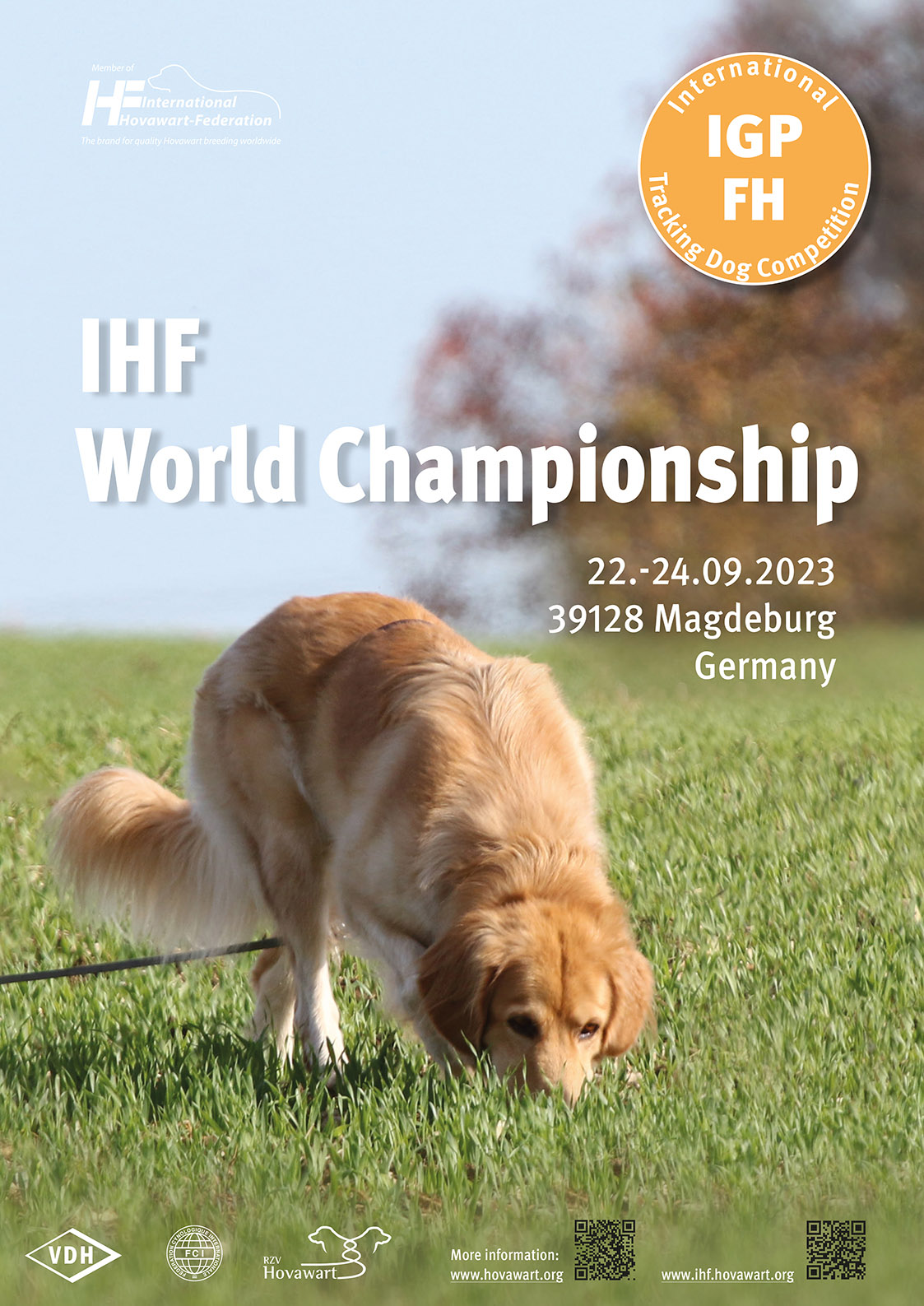 Details
IHF International Hovawart Federation
RZV Rassezuchtverein für Hovawart-Hunde e.V.
Host club: HSV Magdeburg Nord

Test director: Anno Reifenrath (+49 160 9942 6344)
Judges: Wolfgang Dill, Thomas Feldbusch (beide RZV)
Tracklayers: N.N.
Track supervisor: N.N.
…to be submitted by mail to the respective IHF representative of the member country!
Deadline: 25.08.2023
Entry fee: 40,00 € (to be paid on 22.09. when handing in the papers)
Documents: pedigree, performance card, vaccination certificate, dog liability insurance
Schedule and track timetables will be published after the closing date for registration.
Friday, 22nd September 2023 – Arrival
Note: Tracking area for training purposes will not be offered!
19:00: Festive evening in Salon Wörlitz, dinner for 24,90 € / person (to be paid on site)
20:00: Presentation of the participants with drawing of lots for groups A and B
Saturday, 23 September 2023 – 1st day of competition
08:30: Drive to the tracking area
there: drawing of the starting order
19:00: Dinner together (to be paid on site)
Sunday, 24 September 2023 – 2nd day of competition
08:30: Drive to the tracking area
~17:00: Award ceremony
Accommodation
Hotel Sachsen-Anhalt
An der Backhausbreite 1, D-39179 Barleben
Tel. +49 (0) 39203-99 3600
Fax. +49 (0) 39203-61 373

Email: verkauf1@hotel-sachsen-anhalt.com
Internet: www.hotel-sachsen-anhalt.com
Registration under the key word "IHF WM Fährten" until 01 September 2023 at the latest.
Prices: 81,00 € (single occupancy), 108,00 € (double occupancy), payable 2 weeks before arrival at the latest
Arrangement: Bed and breakfast (a one-time flat rate of 15,00 € per dog will be charged)
Arrival date: Friday, 22.09.2023 from 15:00
Departure: Sunday, 24.09.2023 until 11:00
Parking: 160 free parking spaces and 8 charging spaces for e-vehicles on the hotel grounds